Program Mechanism
When nMOSFET turns ON, hot-electrons are generated and trapped in side-wall spacer.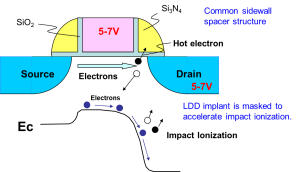 Read Mechanism
Trapped electrons generate the energy barrier to shift Vt and reduce the ON current.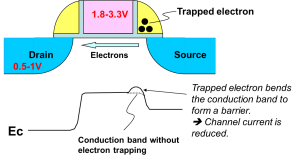 Erase Mechanism
When Gate is negatively biased, hot-holes are injected into the spacer and recombine with the trapped electrons.

Program Operation
Program current flows in one transistor in a cell and generate hot-carriers.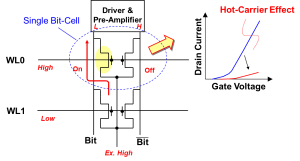 Read Operation
Both bit-lines are pre-charged and current flows through selected cell transistors.
→ Sense amplifier senses current difference and latches.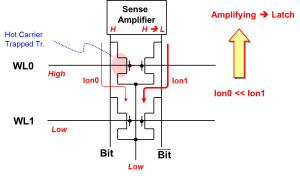 Erase Operation
When all word-lines are negatively biased in the sector, all the bit-cells are erased at the same time.